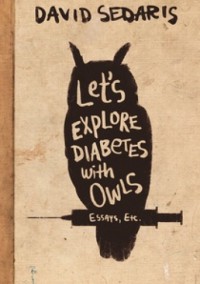 I don't know why it took me so long to read this author's book. I take that back, I read a book he co-wrote about the men his mother dated before she got married but that book was okay. Some parts were "snort" funny but nothing that made me crack up laughing.

This book made me crack up laughing - I laughed on the train to work, I laughed at my cubicle, I laughed alone in my room - making a fool out of myself because the more I tried to stop laughing I'd remember what I had laughed about in the first place and it would just get me going. I'm now working for the State where I have to watch my P's and Q's so with some of the stories being a little colorful, I just had to look like I was slightly insane instead of sharing what I read.

The beginning of the book had me laughing at every story, then it turned a little sad, then a lot strange, then funny again. The author writes not only stories about himself but imagined characters.

I would definitely recommend this book. I ended up selling the ones my friend gave me over the years - thank goodness she's not on Goodreads - so I'll have to order the others books he wrote from the library.